Flowers for Funerals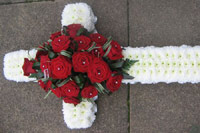 Designs for sensitive occasions
At times of bereavement flowers are often the most sensitive and expressive way of offering sympathy and comfort, and of paying our last respects to those who have gone.
Amanda's Flowers provides a personal and understanding service to family and friends alike.
If you are considering flowers or a floral design for a funeral in Richmond, Surrey and surrounding areas call us and we can discuss your requirements.

Amanda's Flowers (Richmond) 0208 948 4060 - enquiries@amandasflowers.co.uk