Flowers for weddings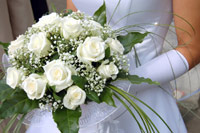 Flowers for Weddings
Every wedding is as different as every bride and groom. It reflects the hopes and dreams of the happy couple, and here at Amanda's Flowers we help to make the dreams come true.
Buttonholes, bouquets, corsages, flowers for the church or chapel, registry office, function suite, or downright bizarre location - come and talk to us about what you want, and see your ideas blossom.
If you are planning a wedding in Richmond, Surrey and surrounding areas call us and we can discuss your floral designs for that special day to make it as perfect as it should be.

Amanda's Flowers (Richmond) 0208 948 4060 - enquiries@amandasflowers.co.uk